Get to Know: Aubrey & Bristol Marunde
Since meeting at a UFC fight in 2009, Aubrey and Bristol Marunde have fallen in love, raised two boys and build a flipping empire in Las Vegas – one of the fastest-paced real estate markets in the country! Their HGTV series Flip or Flop Vegas has become a huge hit and was just renewed for a third season in September 2018.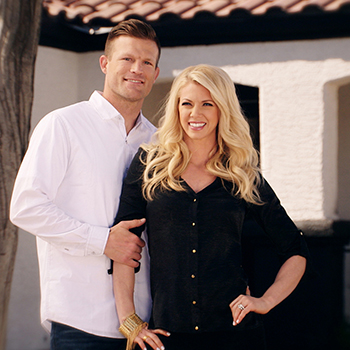 When it comes to flipping houses, Bristol and Aubrey's strengths complement each other quite well and reveal the secrets to their success. With Bristol's MME background, he handles much of the handyman work. Aubrey is an experienced real estate agent with an eye for interior design, making them the perfect match for flipping houses.

We caught up with Aubrey to give us a sneak peek into her and Bristol's lives, their DIY projects and where they find inspiration:

Q. Could you live in a tiny home?
A. Me, no way, but Bristol would do it in a heartbeat.
Q. What's one thing we wouldn't guess about you?
A. Bristol likes his quiet time with a good book. I love animals and would have a farm if we had the space.
Q. What décor items are worth splurging on?
A. Lighting! It's my favorite decor item. It can totally change a space.
Q. What's an easy DIY project that homeowners can tackle to improve their space?
A. Painting cabinets or furniture. I've been doing a lot of chalk painting. It is easy and so forgiving.
Q. If you had to move to another country, which would you pick and why?
A. Italy! We visited this fall and it's beautiful.
Q. What's a must-have at any party you're throwing?
A. Food, food, and more food!
Q. Which HGTV / DIY Network star would you most like to work with and why?
A. Bristol would love to do a project with Vanilla Ice. He's been a fan since he was a kid.
Q. Would you rather upgrade your closet, bathroom or kitchen?
A. Kitchen. It's the space that's most important to your home. Bristol says my closet. It needs help!
Q. Where do you go online to find inspiration?
A. There is always great stuff on Pinterest, maybe too much.
Q. What's a common mistake that homeowners make when they take on a home improvement project themselves?
A. There is going to be frustrations, and the project will usually take longer than expected, so factor that into your equation before starting.
You can catch Bristol and Aubrey at the Des Moines Home + Garden Show which runs February 7—10, 2019, at the Iowa Events Center. They will be on the Inspiration Stage on Friday, February 8, at 6 p.m. and Saturday, February 9 at 2 p.m.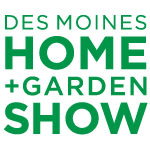 FEBRUARY 7-10, 2019
IOWA EVENTS CENTER
Feb 9, 2019, 14:00 PM