MOVE-IN: BOOTH SPECIFIC- SEE MOVE IN SCHEDULE WITH MAP
Tuesday March 23, 2021
Wednesday March 24, 2021
Thursday March 25, 2021
MOVE - OUT
Sunday March 28, 2021 6:05 p.m. - 10:00 p.m.
Monday March 29, 2021 7:00 a.m. - 11:00 a.m.
Show Dates & Hours
Thursday March 25, 2021 Noon - 9:00 p.m.
Friday March 26, 2021 10:00 a.m. - 9:00 p.m.
Saturday March 27, 2021 9:00 a.m. - 9:00 p.m.
Sunday March 28, 2021 10:00 a.m. - 6:00 p.m.
Are you looking for more exposure before and during the show?
Make sure to increase your sales, leads and awareness by taking full advantage of the Show and our many marketing opportunities. As things get a little tougher these days we all need to work a little harder. One way to do so is stand out from your competition. We have a few options to help out!

Stand out from the competition and increase your presence on the Show floor with our surprisingly affordable marketing options.
Contact your sales representative for more details
Host Hotels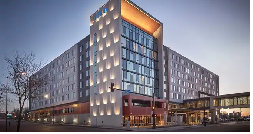 Hilton Des Moines Downtown
435 Park Street
Des Moines, Iowa 50309
515-241-1456
Connected to the Iowa Events Center via Skywalk
Book early to reserve your room.
Click here to reserve your room for $99/night!