"Test Drive the Trades" with ABC of Iowa
The Des Moines Home + Garden Show returns to the Iowa Events Center February 6-9, 2020 and this year's show promises guests a lot of new feature, including Test Drive The Trades. What can you expect from this unique display? Here's how the Associated Builders and Contractors (ABC) of Iowa, the talented group behind this initiative, explains it:
Talk of skilled workers, labor shortages and apprenticeships seem to be on the minds of political candidates and newscasters – but what does it all mean for Iowans? Our state is facing a workforce crisis as today's employers struggle to find qualified candidates to fill thousands of positions. Nowhere is this need more acute than in construction and trades.
This is because for many years, a negative stigma has hovered over the trades. Parents believe the only way for their child to grow up and have a successful career is through a 4-year college degree.
However, many are awakening to the fact that "maybe not everyone is cut out for college," should not be throw-off line and should instead be a rallying cry. Having a career in the trades shouldn't be a backup plan – it should be THE plan.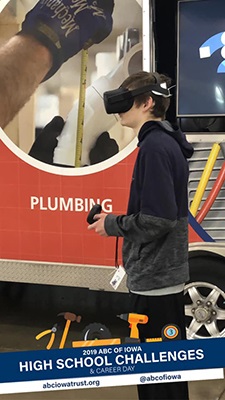 The Associated Builders and Contractors (ABC) have been asking parents and students alike to "Test Drive the Trades" and take a look at what a future career in the construction trades could actually mean. Students who pursue an education in the trades take on little to no debt and also earn money while they receive hands-on training. In 2018 alone, $1.6 billion was invested by ABC members nationwide in the area of workforce development. ABC of Iowa trained more than 1,400 apprentices last year, the largest construction apprenticeship-training program in Iowa.
The demand for skilled craft professionals is not going down anytime soon. ABC estimates 440,000 construction workers need to be hired this year to meet current construction backlog, which stands at 8.5 months. Last spring in Iowa, we tied Nebraska for the second lowest construction unemployment rate in the country at 2%.
Talk about starting off your career on the right foot.
Construction isn't just a job. It is a good-paying career with limitless potential for growth through new skills, challenges, credentials, licenses, entrepreneurship and small business ownership.
ABC of Iowa has training centers in Davenport, Hiawatha and Grimes, where we train in the areas of Plumbing, Electrical, HVAC, and Sheet Metal.
ABC apprentices spend their days working, gaining hands on and real-world experience on the job site from their employer and then meet at our training center for class one night a week. These classes are taught by knowledgeable professionals who have a great deal of experience in their trades and enjoy teaching the next generation of skilled workers. Our classes offer lab opportunities which are an effective way to take what an apprentice learns from a book and give it real context and practice.
Not only are students taught their trade but our curriculum puts a great deal of emphasis on jobsite safety.
The construction industry is safer than ever thanks to improved technology, regulations and focus. A career as a craft professional is dignified and requires high skills. The industry is open and welcoming to everyone.
We hope to see you at our exhibit at the 2020 Des Moines Home + Garden Show. We will be bringing the ABC of Iowa Career Exploration Trailer, which uses virtual reality to showcase real world experiences in the trades. Take a spin through a virtual job site, check out live demonstrations, meet our education staff and employer members who will show you what a rewarding career in construction looks like.
Jan 14, 2020, 23:09 PM